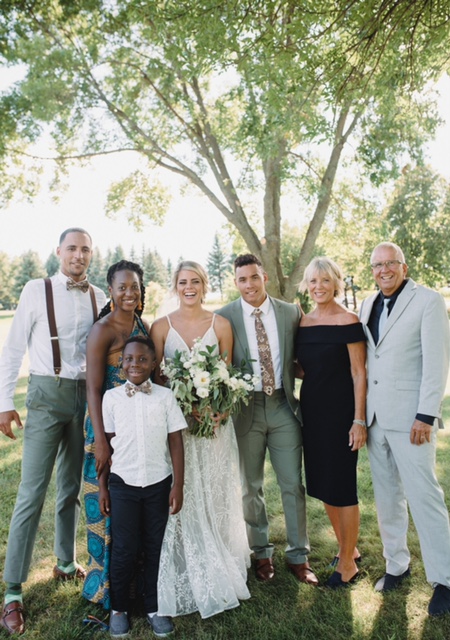 Scott & Julie Peterson and Family
Scott grew up in Bloomington, Minnesota attending the local Catholic Church with his family. He began his journey into ministry as a volunteer leader for the local Young Life Clubs. While attending Bethel College, Scott served as the Youth Coordinator at Bloomington Baptist church. It was also at Bethel that Scott met his wife, Julie. After graduating with a Masters of Divinity degree from Bethel Seminary, Scott began serving as the Associate Pastor of Student Ministries at Berean Baptist church in Burnsville; he served in that role for 14 years, which included 3 years of overseeing the local & global missions ministry.
For three years Scott taught Youth Ministry & Bible classes full time at Bethel College as an Assistant Professor of Biblical Studies. Scott has served as the Lead Pastor of LivingWaters church since March of 2002.
Julie has been the Church Administrator for LW since 2013, and enjoys being a part of and helping the ministries of LW.
Scott and Julie have been married for 42 years and are blessed with their daughter Kylie and her husband Jason & grandson Jaylen, and their sons DJ and Austin and his wife Moriah.
Rob & Carol Olson
Rob grew up in Wisconsin and Illinois. He graduated from Oak Hills Christian College in Bemidji in 2009, after which he spent 7 years teaching and serving in China. He completed a Master of Divinity degree at University of Northwestern, St Paul in 2020. He joined the staff of LivingWaters in 2022. Rob is passionate about "equip[ping] the saints for the work of ministry" (Eph 4:12) locally and globally. He has a heart for learning and teaching God's Word, relational community, leadership development, and global missions. Rob's wife Carol is from Brazil. They were married in 2020. They both love serving the church, getting to know people, and experiencing different cultures.
Rachel & Steve Wood and family
Rachel became the worship director at LivingWaters in May of 2008. She and her husband Steve have attended LivingWaters since its first Sunday 19 years ago. Rachel has served on the worship team since the beginning and has grown in her passion to lead the church body in authentic, joy-filled, heart-felt worship of our Lord. Rachel and Steve have 5 children; 3 boys, Zach, Will and Mason and 2 girls, Kia and Ari, who were brought into their family through adoption. The Wood family regards the LivingWaters body as a second family. "They truly love the Lord and they love us!"
Chris & Raquel Redman and Family
Chris became the LivingWaters Youth Director in 2020. Chris Redman and his wife, Raquel, began attending LivingWaters in 2007.  They have both served as volunteer teachers and leaders in Children's Ministry as well as Youth Ministry over the course of many years.  Chris is passionate about coming alongside students in 6th-12th grade as they seek God and His Word.  Chris and Raquel have 3 kids named Micah, Josiah, and Greta.
Gary & Jenni Jarvis
Gary became Production and Technology Manger in April, 2022. Gary and Jenni have been married for 50 years and have three grown children and nine grandchildren. They have been part of LivingWaters since 2016.
Before retiring Gary had careers as a pastor, professional fund raiser in churches, a Christian retail owner, and a manager for Church Mutual Insurance. Throughout that time, he has been involved as a sound technician in various places including at LivingWaters. In 2020, he helped develop the current system we use for live streaming our worship services.
Managing Production and Technology is a role to recruit, train, and support volunteers in Sound, Lighting, Projection, and Live Streaming.
Gary and Jenni love LivingWaters and look forward to many more years of ministry.
Steve & Rachel Wood and Family
Steve and his family have been attending the church since our start in 2002. He has been very active as a volunteer property team leader, volunteer youth leader and has been an integral part of supporting our property over the years. He comes to us with many years of experience in construction and facilities management.
Elder
LivingWATERs has been my church family since it started in 2002 and I have served as an Elder for most of that time. My wife Jana has served in children's ministries for that whole time as well. We have been living the adventure of marriage together for over 32 years. The expanding Bacon family includes Jessica and Jon Busch; with our grandchildren Henry, Luke and Jaqueline Busch, Isaac and Lauren Bacon, and Seth & Nikole Bacon. I have worked in metal health at the Minneapolis VA for an extremely long time and I am also a Chaplain in the United States Army Reserve. LivingWATERS has been a very large part of God's blessing on our lives.
Elder
Rebecca and I have been married for 20 years. We have two outstanding kids Lila and Oliver. When Rebecca and I were just dating, we were looking for a church home that would be a good fit for us. In 2003 we found LivingWaters- we were struck by the genuine authenticity of the church body and the love for Jesus Christ that was evident. We were quickly welcomed into the body and experienced the full support of the church family when I was deployed to Afghanistan. It has been a joy to be a part of this church family. My wife and I have served in several different areas from the worship team to men's ministry and have also been involved in various small groups. We have been humbled by how God has used us within and outside of this church and we are looking forward to where God will call us in the future.
Elder
Ann and I have known each other most of our lives. While we were dating as seniors in high school we accepted Christ together. We were married 2 years later. Ann completed nursing training while Gene went to Bible College & Seminary. We were in pastoral ministry in Pennsylvania and Minnesota for about 20 years. We have now been married for over 40 years. The Lord blessed us with 3 children who have brought 8 grandchildren into our lives. We began attending LivingWaters in 2012. Our passion is to serve the Lord as we are able. Through the years we've been involved in most areas of church ministry.
Elder
Sue and I have been married for over 50 years. We are thankful to have been raised in Christian families where God's Word was taught and practiced. Both of us committed our lives to Christ as children through the witness of Godly parents and our extended church family. Over the years we have been blessed to have had faithful friends and churches to help us in our spiritual growth and maturity. God has also blessed us with two sons and their wives, Jim & Phuong, and Steve & Rachel, and seven grandchildren. We take great joy in watching what God is doing in their lives. We have been attending LivingWaters since moving to Minnesota in 2011. We immediately felt welcome and at home and were pleased to be offered opportunities for ministry (finance team, facilities care, small group fellowship). We trust those opportunities will continue in the future.
Elder
Linda & I have been married since 1976; blessed with 3 daughters who are now grown and have re-blessed us with 10 grandchildren-all currently living nearby. We thoroughly enjoy every opportunity to interact with them. I was raised in a stable family of fervent faith here in the Twin Cities. LivingWATERS has been our church family since the fall of 2015. We appreciate the way relationships form easily and where people and families grow closer and encourage each other. We have relished nearly 40 years of serving in Children's Ministries; many of those years serving side by side. For 13 of those years, I served as Children's Pastor at Berean Baptist Church in Burnsville, MN and I have also been able to serve as a Deacon, and on various leadership teams (finance, adoption & facilities related). Additional ministries that Linda & I hold essential relate to Corporate Prayer, Small Group Discipleship, and Service - highlighted when for about 15 years we were infant foster care providers for 50 new-borns.