---
Fight On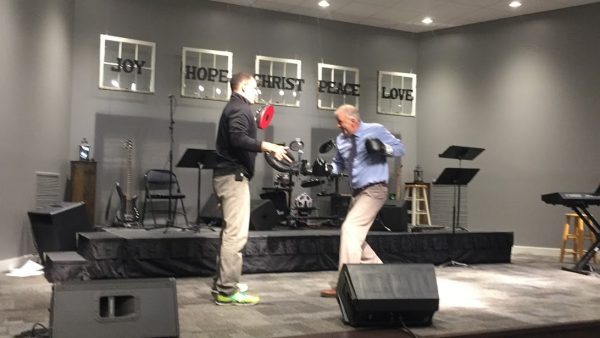 "Adrian!" "Yo ADRIAAAN!!"
Cue trumpet.. da da dada da dadada da da
Can't you see it? Rocky all sweaty and bloody, his eyes beaten, swollen shut, nose broken… surrounded by reporters, flashing lights, microphone's shoved in his face, people pressing in trying to get a glimpse of the Italian Stallion who just went toe to toe with Apollo Creed… the "Heavyweight Champion of the wooorrrllld". I always cringe when Adrian finally makes it into the ring and throws herself into Rocky's arms. He's so sweaty and bloody – yuk. But she doesn't care – she's just glad he's alive. And he doesn't care about the fame, all he wants is his girl Adrian in his arms.
He went the distance, all 15 rounds.
Some weeks feel like that don't they?
Some days feel like that.
15 rounds – trying to go the distance. Trying to run this race that God has set before us. Trying to be disciplined to always be in shape as a God-lover so that we can handle the challenges that come with living in this world. If you've seen the Rocky movie you know the training montage that goes along with the trumpet – da da dada da dadada da da… chugging the raw eggs, the early morning run down the empty streets, the beating of the raw meat at the butchers shop and the final run up the big steps with the victory arms. Pretty exhilarating!
Wouldn't that be nice to have some music always playing in the background for motivation as we go about our life? Think about what your music would sound like. Probably depends on who you relate to. Is it Creed? He's his own best fan, he's got it all together – no one can touch him – he's the greatest – he's the superstar – Heavyweight Champion of the world baby… that is until he gets into a real battle and comes out of it beaten dazed and confused about what just happened.
Or maybe it's Adrian – the supportive person in someone's else's life – going about her day not super engaged with life – doing what she needs to get by, living on the sidelines until she falls in love and life is worth living.
Or are you Rocky?
In it for the fight.
In it to win it.
In it to get the prize.
No backing down, no turning back, no throwing in the towel, no leaving the ring no matter how bruised battered beaten and bloody he gets.
I think what Paul is saying in I Corinthians 9 is that we should be Rockys.
We should be disciplined to drink those raw eggs, run those miles, beat that meat.
Be ready for the battle.
When the culture says truth is relative – know your Bible to stand against the lies.
When your boss says you're worthless – know your worth comes from your Creator and stand against the blows.
When you're tempted to cut corners to make life easier – keep your integrity as an example to a cutting-corner-kinda-world.
When you fail – get up – keep punching – keep moving
Don't live aimlessly – live with purpose – fight on.
Fight apathy, fight selfishness, fight greed, fight hate.
Fight on.
Be in it to win it – the prize is set before us!
"Do you not know that in a race all the runners run, but only one gets the prize? Run in such a way as to get the prize. Everyone who competes in the games goes into strict training. They do it to get a crown that will not last, but we do it to get a crown that will last forever. Therefore I do not run like someone running aimlessly; I do not fight like a boxer beating the air. No, I strike a blow to my body and make it my slave so that after I have preached to others, I myself will not be disqualified for the prize." I Corinthians 9:24-27